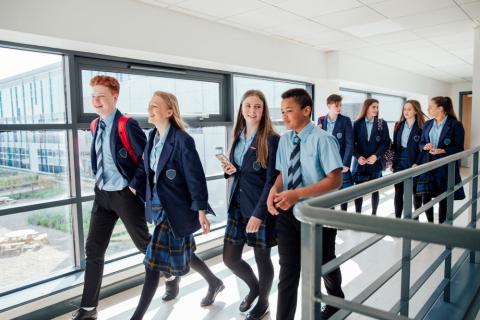 In a Nutshell
This project started in April 2022, and is still in its initial stages.
Currently, the Neurodiversity Alliance project is co-designing materials to facilitate neurodivergent peer support in mainstream schools. This involves working with neurodivergent young people and the people who support them gather their views and input on peer support materials.  Check out the boxes below to find out more.
In this project we are co-designing a peer support package of materials for neurodivergent young people. But what is neurodiversity, what is peer support, and what is co-design?
Neurodiversity
Neurodiversity may be a new word or concept to many of you and to many young people. Neurodiversity or neurodivergent is a word used to describe people who have differences in how they learn, think, and experience the world. This includes people who have various diagnoses, including (for example) Autism, ADHD, Dyslexia or Dyspraxia (DCD).
Looking for more in-depth neurodiversity content right now? You can read about neurodiversity on the Salvesen Mindroom Research Centre's website. These cover a wide range of topics including neurodiversity as a social movement, healthcare, ableism, and workplaces.
Peer-support:
The term 'peer support' is when people who have similar experiences support each other. In this project, it means creating a space for neurodivergent young people to support other neurodivergent young people. This can be by spending time together, with a focus on building community and supporting young people to develop their own identities, rather than being expected to fit into the "norm". Peer support in other groups (for example LGBTQ+ young people) has had a very positive impact, but no research has looked at whether peer support for neurodivergent young people might be helpful.
Co-design:
Co-design means that we create all materials for the peer support package in direct collaboration with lived-experience experts.  In this project, we will have two co-design groups. One group will be for neurodivergent young people as they know best what neurodivergent young people prefer. Our second group is for adults who may be parents/guardians of a neurodivergent young person, a neruodivergent adult, a teacher or education professional who works with neurodivergent young people, or any mixed of the above. The co-design groups work in partnership with the researchers and have equal decision making power in what the peer support materials looks like.
If you would like to join one of our co-design groups, head to the 'Get Involved' drop down box.
Why are we doing this project?
Key Questions we aim to answer:
What are the key components of a neurodiversity peer support program in secondary school for neurodivergent pupils and other stakeholders?
Is a peer support program feasible and acceptable to neurodivergent pupils and other stakeholders, and what are the associated barriers and bridges to engagement?
What is the impact of a neurodiversity peer support program on educational engagement, inclusion and wellbeing? 
What are the perspectives of neurodivergent pupils and other stakeholders on how peer support systems in secondary school should be delivered in the future?
Thank you for being interested in getting involved in our project.
We currently don't have any opportunities open for individual participants.
Getting involved as a Scottish School:
We currently have various schools across Scotland piloting the co-designed programme and resource pack. Once the peer support programme has been piloted, it will be open to all high schools across Scotland to download and use. We anticipate this will be available in the 2023 Autumn term.
Benefits to your school:
Be confident in using the peer support programme backed by research
Opportunity to learn how other schools have used the peer support programme 
Getting involved as an educator:
Are you an educator outside of Scotland? We're interested in hearing from educators from across the UK and the globe to explore how our peer support programme could be adapted for other education systems. 
If you believe you have something to offer to our project but we have not mentioned it here, please don't hesitate to get in touch with Lead Researcher, Francesca Fotheringham via email (Francesca.fotheringham@ed.ac.uk).
The Neurodiversity Alliance project is officially based within the Salvesen Mindroom Research Centre, at the University of Edinburgh.
Research team members:
Dr Francesca Fotheringham (lead researcher)
Dr Catherine Crompton (Principal investigator)
Dr Katie Cebula (co-investigator)
Dr Sarah Foley (team member)
Prof. Sue Fletcher-Watson (team member)
Young People Co-design group
Tbc
Adult co-design group
Tbc
Neurodiversity Alliance Graphic Design
Tbc
We are very grateful to the following organisations who have helped to fund this project:
Salvasen Mindroom Research Centre Scientific Advisory Board
If you would like to join our mailing list , where we sent updates about our project, please email Francesca.fotheringham@ed.ac.uk with the subject 'join mailing list' 
We're happy to answer any questions, comments or concerns that you may have about the project. Please feel free to contact us using the method you prefer
Email: Francesca Fotheringham – Francesca.fotheringham@ed.ac.uk
Twitter: @NeuroAlli_UoE
(please email Francesca Fotheringham if you wish to set up a phone or video call)
Key contact