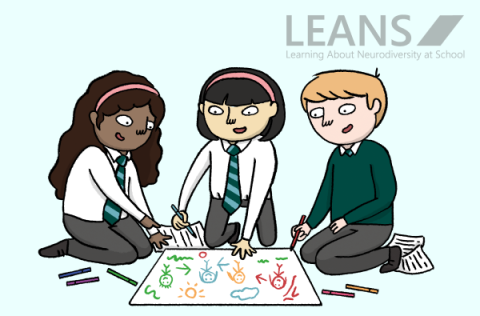 Public reports
We are preparing a public report about the LEANS evaluation study, and plan to release this during the summer of 2022. Join our project mailing list to make sure you don't miss the report! 
You may also be interested in our recorded talks about LEANS project, many of which are for general audiences.
Visit our talks and media page
Academic publications, pre-registrations, and pre-prints 
We are in the process of submitting publications about LEANS' design work and evaluation study, and will update the site when they are available.  
Evaluation study pre-registration (October 2021) 
We pre-registered the quantitative elements of our school evaluation study on OSF, including file uploads of the bespoke measures (quizzes) our team created to assess the neurodiversity concepts taught within LEANS. While the school study also includes some qualitative data, that is outwith the pre-registration. See the pre-registration and quizzes on the Open Science Framework (free, no login needed).
 View pre-registration for the quantitative components of this study on the Open Science Framework (OSF)