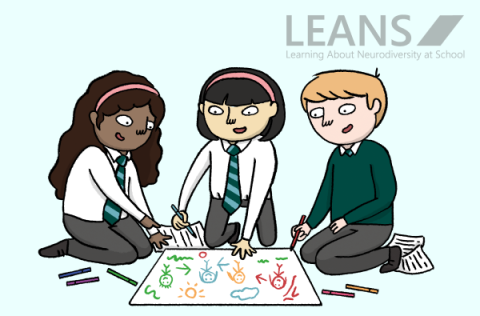 Academic publications, pre-registrations, and pre-prints 
LEANS participatory design process (2020-2021)
We are in the process of writing publications about LEANS' design work and preparing to share document and templates, and will update the site when they are available.  
LEANS public consultation studies (2020)
Open-access paper (free to all readers, even if you are not in a university)
Zahir, R., Alcorn, A. M., McGeown, S., Mandy, W., Aitken, D., Murray, F., & Fletcher-Watson, S. (2023). Short report: Evaluation of wider community support for a neurodiversity teaching programme designed using participatory methods. Autism, 0(0). https://doi.org/10.1177/13623613231211046
OnlineFirst as of November 9, 2023. This item does not yet have an issue number.
LEANS evaluation study (2021)
Pre-registration: Before conducting analyses, we pre-registered the quantitative elements of our school evaluation study on OSF, including file uploads of the bespoke measures (quizzes) our team created to assess the neurodiversity concepts taught within LEANS.
View pre-registration for the quantitative components of this study and the LEANS quizzes on the Open Science Framework (OSF), free, no login needed
Pre-print paper: "Learning About Neurodiversity at School (LEANS): Evaluation of the LEANS resource pack in mainstream primary schools" is currently under review at an academic journal, but a version is available to read now. 
Read the pre-print on OSF, free, no login needed
Our LEANS news section says more about what pre-prints are, and how this is different than having a paper accepted for publication.
Policy briefs
Policy brief for the Scottish Government, November 2023
This short document explains the connections between LEANS (and neurodiversity teaching generally) and current legislation and policy priorities in Scotland, and was written as a part of LEANS' participation in the Scottish Government's Education Research Seminar Series, November 2023.
Download and read our policy brief: