LEANS was created in English, and is downloadable for free from this website: https://www.ed.ac.uk/salvesen-research/leans/download
Licensed translations of LEANS
Available translations
None as of September 2022.
Translations currently in progress
Flemish/Dutch - more information will be posted when details confirmed.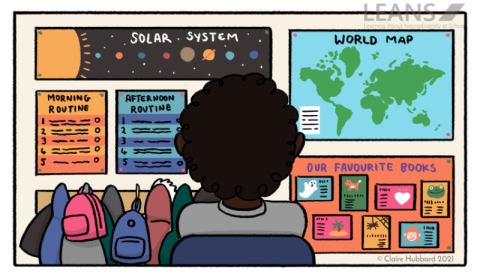 Translating LEANS into other languages
Our translation policy
The LEANS authors support the resources becoming available in languages other than English, and are willing to work with other teams/organisations to make this happen. Our translation policy tries to facilitate the goal of making LEANS available to new audiences, while also respecting that producing a translation is a substantial investment of resources for everyone involved. It only makes sense to begin this process when there is a clear, feasible, and funded plan to carry out the work. Below, you will find more information about this, and our downloadable guidance documents that explain our policy and processes in detail.
Users are allowed to translate LEANS for personal use, but not share those translations
The handbook and associated LEANS materials are published under a Creative Commons CC-BY-NC-ND 4.0 license: Attribution-NonCommercial- NoDerivatives 4.0 International. The LEANS terms of use permit people to adapt LEANS for personal use, including translating the content for use translate within your own classroom or school, but prohibit you from distributing adapted or translated resources to others. If you were to make a translation and post it online, or share it with other schools, you would be violating the terms of use to which you agreed when you downloaded LEANS. Please respect our terms of use, and the many people whose work has made LEANS possible.
Only licensed translations of LEANS can be publicly distributed. Creating a licensed translation is a defined process that can only happen in cooperation with LEANS' creators. See below.
About licensed translations
A licensed translation is the only way to create a version of LEANS that can be publicly distributed—for example, making it available to all teachers and schools across a country, as we have done with LEANS in English. A "licensed translation" is an official translation, and means that we have licensed the content to you for that purpose, under copyright law. This is completely a completely separate license to the Creative Commons (CC-BY-NC-ND 4.0) license, under which we have released LEANS in English.
If there isn't yet a translation of LEANS in a particular language, you can propose to lead a new translation. This is similar to proposing a small research project or other piece of work, and involves submitting a form to the LEANS team providing information about the planned work, funding for the translation, team members, intended timelines, and so on. Please note that the LEANS team does not have funding to finance translations. See our policy document for more about how the LEANS team can and cannot contribute to translations.
The LEANS team will review all proposals we receive, and will consider whether each one represents a complete, clear, and feasible proposal by people with experience relevant to LEANS' topics. We will not automatically approve all proposals—for example, a translation in that language might already be in progress, or our team might lack capacity to work with you on the timeline you proposed. Please see our documentation for more information on why we might decline a proposal.
If we accept a team's proposal, both sides would sign a translation agreement. We would license the LEANS content to that team, allowing them to translate and then publicly distribute it in a specific language, and under agreed conditions.
If you are interested in translation, we strongly encourage you to download the proposal form and our translation policy document at your earliest opportunity, and review them. They are meant to clarify what is involved in the translation and distribution process, and help your planning. They include a FAQs section.
If you have questions about the translation process, please review these documents before contacting the project team—they may already answer your question!
Translation documents: available soon
The LEANS team is still finalising the policy document and translation proposal form. We plan to make them available by the end of October 2022.
We will announce when these documents are released--please join our project mailing list via the link below to make sure you don't miss it! (Link re-directs to a new page).
If you are interested in proposing a translation, please wait to contact us until the policy and proposal documents are published. Thank you.