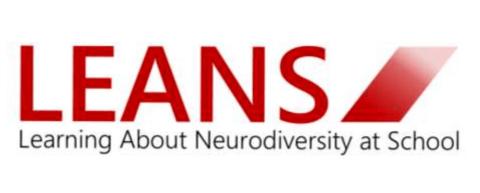 For the latest project news, visit our main website.
In a nutshell
Working together with educators, community members and schools, the LEANS project is developing a free classroom activity pack for mainstream primary students and their teachers to learn about neurodiversity, or brain-based differences in how we learn, think, and experience the world. We will evaluate this pack in schools in 2021, to see how well it works at teaching neurodiversity concepts in real classrooms. The final pack will be available for free, forever, for everyone.
About the project
Background
Neurodiversity is the fact that all human beings vary in the way our brains work. We take in information in different ways, we process it in different ways, and thus we behave in different ways. Neurodiversity is a property of the entire human race: each individual person is different from the next. Currently, there are school-friendly resources that teach about specific diagnoses often associated with neurodiversity, such as dyslexia, ADHD, or autism, but not resources about neurodiversity as a type of human diversity that includes all people.
Co-designing the Activity Pack
Project researchers are working together with experienced educators and members of the neurodiversity community to iteratively co-design classroom activities. These explore how neurodiversity affects different aspects of the school experience - from how we concentrate in class to navigating friendships.
Teaching neurodiversity is not just about teaching a 'list of labels' or about focusing on students who are different or who need help. Throughout, the activities discuss both challenges and strengths, differences and similarities between people. A key principle of LEANS is that neurodiversity is not something that only applies to 'others': we are all part of it and it has something meaningful to say about all of our lives and experiences.
The final LEANS resource consists of seven content units on the following topics: introducing neurodiversity, classroom experiences, communication, needs and wants, fairness, friendship, and reflecting on our actions.  Each unit blends hands-on activities and storytelling content about a neurodiverse classroom, augmented by posters and explanatory videos for key concepts. A Teacher Handbook introduces the concept of neurodiversity for staff, and includes tips for teaching this topic safely and accessibly.
We will evaluate the activity pack in schools with a pre-test/post-test method to find out if it's successful in teaching students and teachers about the concept of neurodiversity, and in encouraging more positive and inclusive actions within their school. After a final revision, we will release the activity pack online, in full and for free, in 2022.
Impact
Adoption of the LEANS activity pack in mainstream primary schools has the potential to increase inclusion and respect in schools, by fostering students' and teachers' understanding of human neurodiversity as a concept that includes, affects, and can benefit everyone.
Funder
Salvesen Mindroom Research Centre: Scientific Advisory Board Research Grants
Key contact