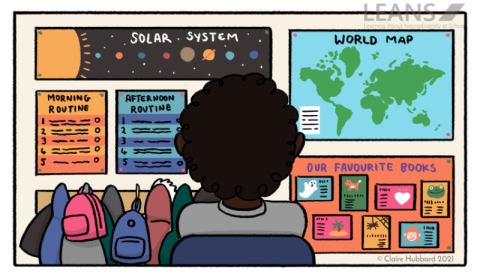 This page includes free resources related to the LEANS programme, and to neurodiversity more generally. Most are not part of the main classroom resource pack. They may be useful for educators, community members, families, and other professionals.
LEANS fact sheets 
Coming soon! 
LEANS info flyers 
Flyer for schools (Version A, August 2022) 
Spread the word about LEANS resources in a school or other organisation with our free info flyer (2 sides of A4). This colourful flyer has some basic LEANS info, but isn't a comprehensive fact sheet—it encourages interested people to visit the website for all the details. 
Further reading 
Neurodiversity reading lists: These lists were developed for educators and are included in the LEANS teacher handbook, but may be useful for anyone interested in learning more about neurodiversity, or deepening your understanding if you have already been introduced to the topic. They include a mix of free and paid resources—don't forget to check for the listed books in your local library!
LEANS recommended neurodiversity readings for educators (154.88 KB PDF)
Even more Neurodiversity at School: Resource suggestions from the community: A crowdsourced list of resources relevant to neurodiversity, collected in 2020-2021. It includes a mixture of formats, and paid/free items. The list focused on resources for primary-aged children, but also include ones of interest to teachers and parents. If you are looking for resources focusing on specific diagnoses (e.g. a child-friendly book on dyslexia), you may find one here! 
LEANS even more neurodiversity at school - resource list v1-0 June 2021 (241.18 KB PDF)
We're collecting more recommendations of neurodiversity resources! 
The goal is to produce a new edition of the list in the first half of 2023, because new resources are coming out all the time. 
Read what we're looking for, and get the recommendation form
Lists of support organisations for young people and families  
These primarily include organisations relevant to neurodiversity (for example, those focusing on dyslexia, autism, and other diagnoses), and those focused on education, disability, children, families, and wellbeing. There are separate lists for organisations based in the UK, and those based in the Republic of Ireland. These lists aren't exhaustive—they are meant to be a place to start if you are looking for information or support.  
LEANS organisations UK (193 KB PDF)
 LEANS organisations ROI (154.15 KB PDF)
LEANS information for families 
We now have a dedicated information page for parents, carers, and families.