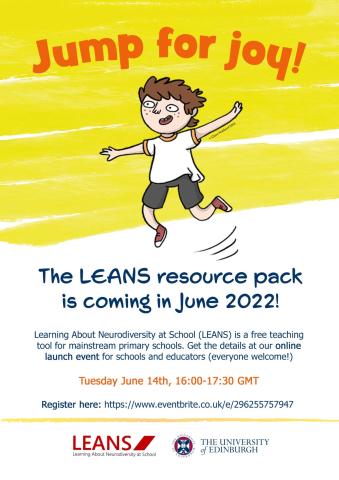 To celebrate the launch of the LEANS resource pack, the LEANS research and design teams held a free online launch event on June 14th, 2022.  
The full event recording, including Q&A, is now online! This event introduced the who, what, when, where and why of the LEANS resources, placing them in the larger context of why teaching neurodiversity is beneficial and important. Speakers included educators from the LEANS participatory design team and members of the research team—and also a special preview of one of our LEANS stories.  
While this event focused on education professionals in the UK, we'd also recommend it for families, community members, and organisations who are interested in understanding what LEANS is about and how it might benefit children and young people.  
Watch the launch recording on YouTube here!
If you're interested in hearing announcements about future events, please join our project mailing list via our Contact page. 
You can find recordings of previous LEANS talks on our Talks and Media page.