Date published: March 2020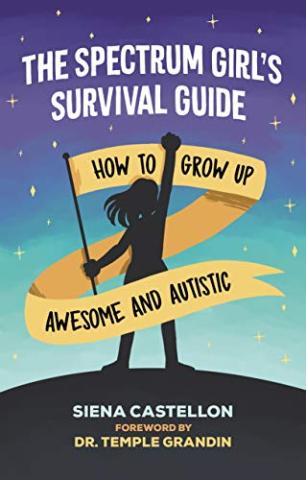 Paperback price: £12.12
Link to book on Amazon website
Reviewer: Holly Sutherland, PhD student
Reviewer expertise: Undertaking PhD

in social communication between autistic people
What is the book about and who is it aimed at?
Part self-help book, part puberty guide, and part anecdotal autobiography, The Spectrum Girl's Guide to Survival runs through everything an autistic teenage girl might need to know about navigating adolescence.
A brief description of the book
The book primarily draws from the author's personal experiences with being an autistic (and dyslexic, dyspraxic, and ADHD) teen girl. It covers an impressively wide range of topics – from managing mental health, bullying, sensory issues and diagnosis disclosure, to developing a fashion sense and good hygiene habits, to navigating school and the internet, to making friends and dating, and more. Large sections of the book provide sensible advice for teen girls of any neurotype, but the author always keeps one eye on the specific needs that autistic teens are likely to have. The section on, for example, developing a skincare routine has the kind of common-sense suggestions found in most 'guide to puberty'-style books – but with special consideration given to the way sensory sensitivities might interact with various products, something less likely to be found in a guide aimed at a neurotypical audience.
Is the content in line with best practice or research evidence?
Much of the advice provided is anecdotal advice on managing autism-specific challenges, or general common-sense advice for all teens, but some chapters do touch on deeper topics. The chapters on masking/camouflaging, and on sensory issues, are all largely in line with the current research evidence. However, some parts of the book – primarily the sections on gender and sexuality, and mental health – feel overly ambitious for the size and scope of the book. Whilst the author makes a valiant attempt to cover both of these very large and complex topics, the lack of space and of a more academic perspective leaves them feeling rather under-informative and lacking in solid, evidence-based advice. In the gender and sexuality section, particularly, some of the terminology used is already somewhat out-of-date. Parents considering buying this book for their autistic teen may want to consider providing additional materials on these topics, and on how being autistic may interact with them.
Would this book be helpful for its target reader?
Despite these minor issues, the book is likely to be helpful to autistic teenage girls – especially those who have significant issues with sensory sensitivities, which the author has particular experience with and therefore provides a lot of advice about. It offers straightforward and actionable suggestions, from one autistic teen to another, which will be especially valuable for readers without other autistic teens in their peer group to swap tips with. Parts of it may additionally be helpful for parents, siblings, and other family members of autistic teens, to provide insight into how their teen sees the world and the kinds of challenges they are facing. Some parts of the book, especially areas focused on the kinds of accommodations schools can or should provide for autistic (or any other kinds of neurodivergent) students, need interventions that will require the assistance of an adult to negotiate. Readers may find it helpful to read through the book on their own, and pick out specific parts they would like their parents to read also; they could also read the book with a parent and discuss as they go.
What is your final, overall opinion on the book?
Overall, The Spectrum Girl's Survival Guide is a book that fills an underserved niche: guides to navigating the difficult world of adolescence by autistic teens, for autistic teens. It provides thoughtful and frank advice, and is written in an accessible style that even those usually put off by books will find easy to read. And, most importantly, it does so with a compassionate and distinctly autistic perspective, reassuring readers that they are not alone in facing the challenge of growing up awesome and autistic.