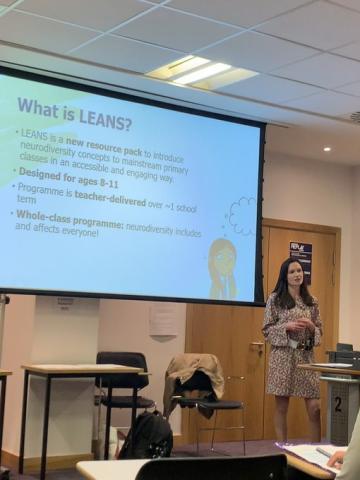 Find out where you can hear talks and meet our team in our upcoming conferences on our conferences in 2023 page.
Annual Learnus Lecture
November 16th, online, free
Professor Sue Fletcher-Watson gave this year's Annual Learnus Lecture on "Neurodiversity: acceptance and affirmation in the classroom". Learnus is an organisation focused on educational neuroscience, working to bring together practitioners, researchers, and others toward the bigger goal of improving education.
This event was hosted on Zoom.
Watch the recording of Professor Fetcher-Watson's lecture (50 min)
Autism Europe Congress
October 6-9, hybrid event, Cracow, Poland (£)
LEANS attended Autism Europe in person, with poster presentations about our evaluation study (Dr Alyssa Alcorn) and our online consultation study used to inform development of LEANS materials (Reesha Zahir).
View presentations of the LEANS e-posters and other research from SMRC (YouTube playlist containing four 3-minute videos)
Autism Europe Conference website
BPS Psychology of Education Section Annual Conference
September 14-15, in-person, Wolfson College Oxford (£) 
On Wednesday the 14th, Dr Sarah McGeown gave the opening keynote lecture entitled "Better together: Co-designing educational interventions with children, young people, teachers and other professionals." Among her other work, it included content on the LEANS project. 
Sarah also gave a dedicated talk on the LEANS evaluation study and its results later on Wednesday (parallel session 1-B, development and inclusion).
Psychology of Education Section Annual Conference 2022 - about page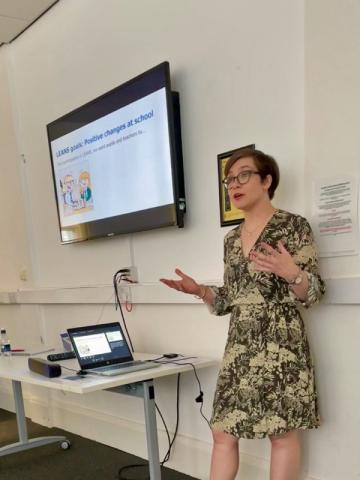 British Educational Research Association (BERA) Conference  
September 6-8, in-person, University of Liverpool (£) 
Dr Alyssa Alcorn presented about the LEANS project and evaluation, as part of conference session 3.10 on Tuesday Sept 6th. This paper was jointly awarded 'BERA Annual Conference 2022 –Best Paper' in the Inclusive Education Special Interest Group (SIG).
BERA Conference 2022 - programme page
Autistica Research Festival 
July 11-15, Online, free 
A short talk with Dr Alyssa Alcorn presenting about the LEANS evaluation study on Friday, July 15th (in education session 14:30-15:30). This talk and this conference were intended for a mixed audience of community members, researchers, and professionals.  
Video - talk via YouTube (13 min - part of a longer video)
NDAS 2022: Neurodevelopmental disorders annual seminar 
June 23rd, in-person, University of Edinburgh (£) 
Dr Sarah McGeown presents about the LEANS evaluation study (session 2b). Registration closes on 31st May 2022.